Carpets are an essential part of many commercial spaces. Whether used for aesthetics or environmental purposes, appropriate carpet cleaning is crucial to the success of your facility. There are several benefits to having professionally cleaned carpets in your workplace. Here are the reasons why it's better to leave the job for professionals:
Have the tools and experience needed
Carpet cleaning involves several steps and tools, from vacuums to steam cleaners. Professional carpet cleaners like us at Canterbury Carpet Cleaners have years of experience using these tools in various situations, which means we know precisely how to clean your carpets in the most efficient manner possible.
Carpet stains are removed effectively
The most common reason why people hire professional carpet cleaners is that they want their carpets cleaned properly. If done correctly, this will ensure that all types of stains are removed from the carpet effectively. Even if you try to do this by using home remedies such as bleach or detergent, it may not be enough to eliminate all stains on your carpet.
Protection from allergens and bacteria
Carpets are home to many allergens and bacteria that can threaten those with asthma or other respiratory issues. A professional carpet cleaning service will protect your employees by removing these harmful particles from their work environment.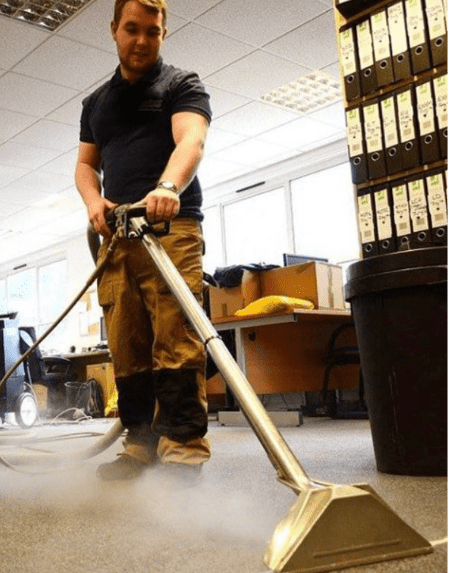 Reduced risk of damage 
Carpet cleaning can be messy and potentially damaging if not done correctly. Cleaning solutions can be harsh on certain types of carpets and cause damage to them over time. Professional cleaners have the experience and equipment to clean your carpets without causing damage.
Better results
When you hire someone with experience in commercial carpet cleaning, you can expect them to have the best products on hand and the most effective techniques for removing stains and odors from your carpets without damaging them.
The benefits of professional cleaning can significantly help businesses that may not have the time or workforce to clean their carpets regularly. A company that is just starting might not know where to begin, and leaving it to the professionals ensures the quality of your carpet is adequate and in line with the company image. If you need a professional carpet cleaning company, contact us today! Check our home page to learn more about us and the other services we offer.